GLS are a leader within the rental market for power distribution, not just stocking a wide range of combinations to suit every requirement, but now also including the Indu Electric 78way distros complete with the brand new MMPS (Mains Monitoring and Protection System). As the world is moving more and more from dimming heavy shows, to moving light heavy shows, this distro is a Must Have for all your big shows !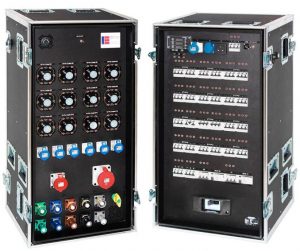 Equally, when it comes to dimming, GLS Lighting have a wide variety to cover off every need. The Avolites ART 2000 T4/T2 dimmer range is undeniably the workhorse of the touring dimmers, but alongside these, we hold smaller configuration racks to offer flexibility for each and every eventuality.
The Anytronics 12way +9hot multipurpose rack, for example, includes a DMX splitter, 12 channels of dimming, and 9 hotpower outs all in a very small rack – so is absolutely ideal for conference use.
Here's a few tasters of what we have:
Distro, 78way hotpower (Indu): PL in, thru – 12 x soca, 6 x 16A, 1 x 63/3, 1 x 32/3, Cased
Distro, 48way hotpower (Indu): PL in, thru – 8 x soca, 6 x 16A, 2 x 32/3
Distro, 36way hotpower. 63/3 in and thru, 6 x soca, 2 x 32/3. IP44
Distro, 21way hotpower. 63/3 in and thru, 3 x soca, 3 x 16A, 1 x 32/3. IP44
Distro, 6 way hotpower. 32/3 in, 1 x Soca parallel to 6 x16A out with RCBO. IP20
Distro, general. 125/3 in, 3 x 63/3, 1 x 32/3, 1 x 63/1, 1 x 16A, 1 x 13A. Single variable RCD
Distro, general. 63/3 in, 1 x 63/3 link, 2 x 32/3, 3 x 32/1, 6 x 16A IP44
Distro, general. 63/1 in, 4 x 32A, 4 x 16A. IP44
Distro, general. 63/3 in, 3 x 63/1. Single variable RCD. IP44
Distro, general. 32/3 in & link, 6 x16A out with RCBO. IP44
Distro, general. 63/1 in, 4 x 32A, 4 x 16A. IP44
Distro, general. 32/1 in, 4 x 16A out. IP44
Distro, 6way single phase hotpower. 63/1 in, 1 x soca, 6 x 16A, 1 x 13A. IP44
Avolites ART2000 T4 rack
Avolites ART2000 T4 rack: soca in option (4 in/16 out)
Avolites ART2000 T2 rack
Anytronics 12ch Smart Dim, 9ch hotpower, dmx splitter rack, 63A/3 inlet
Anytronics S192 24ch dimmer
Anytronics S193 patchable 24ch dimmer
Zero88 Beta18 dimmer rack (3x32A inlets/15A outlets)
Zero88 Betapack 6ch DMX dimmer (63A inlet/15A outs) *NB no RCD
Zero88 Alphapack (15A outlets) 3ch dimmer